Situated just over an hour's drive from Cape Town, the breathtaking Breedekloof Wine Valley greets you with dramatic mountain slopes, verdant valleys, and lush landscapes.
Passing by the town of Rawsonville, the gently meandering Slanghoek Valley Road leads you between the mighty Slanghoek Mountains and the smaller Badsberg Mountain. The visual feast that lays before your eyes is quite extraordinary, and you soon feel the stresses of modern-day living melting away, along with any chance of cell reception the further into the valley you go. Scary for some, but happy days as far as I'm concerned!
If you are looking to get away from it all, Slanghoek Mountain Resort offers the most peaceful setting to relax and unwind. It is the perfect place to reconnect with yourself and your loved ones while surrounded by the sights and sounds of Mother Nature. My family and I recently enjoyed an off-the-grid weekend stay in one of their brand-new Luxury Eco Mountain Cottages. So, what is it about this resort, and specifically the eco-cottages, that makes this Western Cape gem a must add to your travel list?
LOCATION REALLY IS EVERYTHING
Perched high up on a hilltop with a forest of tall blue gum trees in the background, the new Luxury Eco Mountain Cottages offer exquisite mountain and valley views that will make any city slicker sit up and take notice. Take a slow drive up the steep brick driveway to the cottages, especially if you are in a low-slung car. Being this high up ensures that you are far enough away from the main resort area, providing a private setting that is ideal for quiet meditation and total relaxation.
Each cottage faces the magnificent Slanghoek Valley Mountain range that rises like a giant from the valley floor. I got lost for what seemed like hours, just taking in the unbelievably beautiful views from the shaded outdoor terrace or inside from the comfort of the couch under a plush blanket. Sunsets are especially beautiful from up here.
LUXURY ECO MOUNTAIN COTTAGES
My teen thought I was joking when I said there was no TV and WiFi at the resort. I, on the other hand, thought this was the ideal opportunity for us all to unplug, relax and unwind WITHOUT modern devices. Any chance to disconnect to reconnect fills me with joy, while for a teen it is almost unfathomable. I assured Daniel that he would survive 48 hours without WiFi. He looked at me as if I had clearly lost my marbles. I'm sure those with teens can relate. 😉
Our home-away-from-home was a beautifully furnished luxury mountain eco-cottage called Packham. Two of the five cottages have already been completed and have been named after the pear cultivars grown on the farm – Celina, Packham, Rosemarie, Bon Chretien and Cheeky.
The cottage makes relaxing in luxury highly enjoyable. The interior is stylish, modern, and minimalist, with artwork and accessories that add vibrant splashes of colour to the blue and grey furnishings. Undoubtedly, the spectacular views steal the show. The views seem to fill the spacious open plan lounge and dining area, with sliding doors that open onto the large undercover terrace and braai area.
In the opposite corner, you'll find your exclusive hot tub. Oh yes, your very own wood-fired hot tub with views for days! The only downside – it offers no shelter from the elements, so we were unable to use the hot tub as it was wet and windy. I'm hoping that they will sort this out in time so that this unique feature can be used all year round. I mean, what could be better than sipping on a glass of your favourite tipple with your partner while enjoying endless views?
Each self-catering unit comfortably accommodates four people. Featuring one main bedroom with a queen-size bed and en suite bathroom (shower, bath, and basin), the second room has twin beds with a separate bathroom. I loved the crisp high thread count linen, plush blankets, and comfortable bed.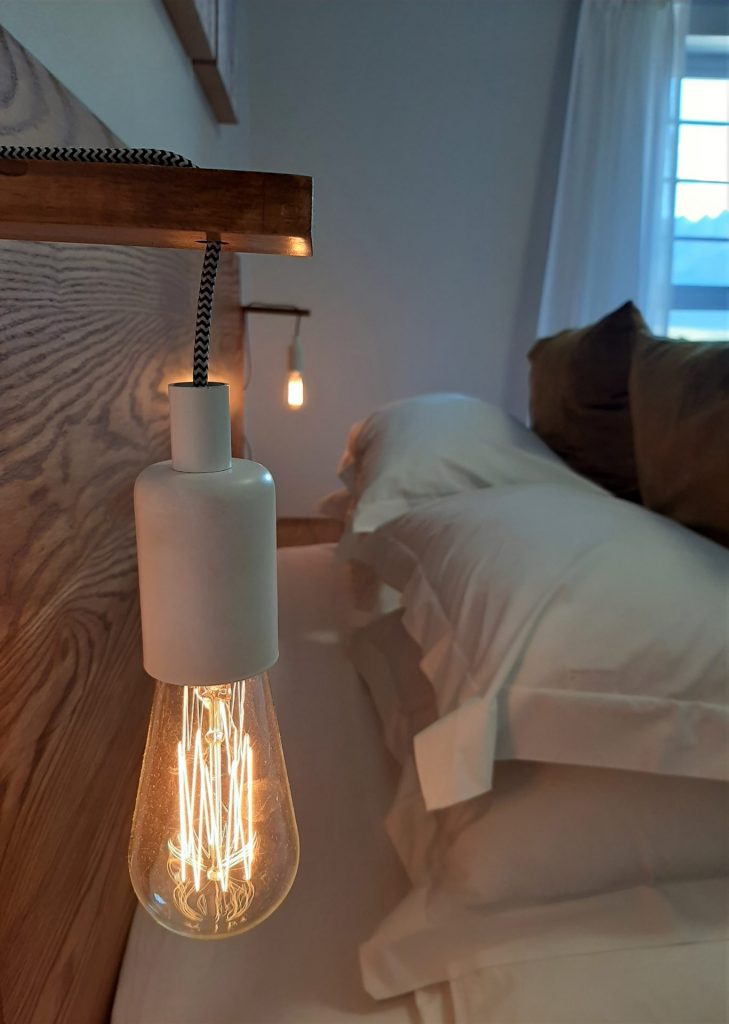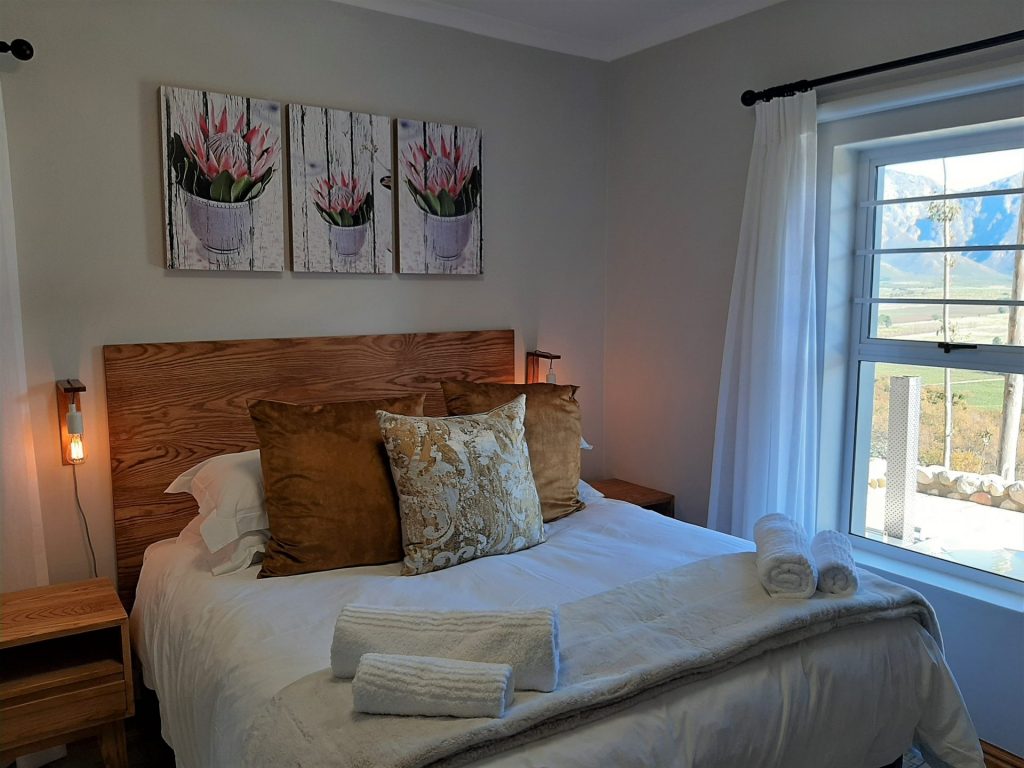 There is no heater or indoor fireplace, and although it was cold outside, the cottage itself was warm. They have plenty of blankets to snuggle under if you feel a bit chilly. As the cottages are a work in progress, they are improving and adding features as they build, taking guests feedback into account. The half-built cottage beside ours features an indoor braai area.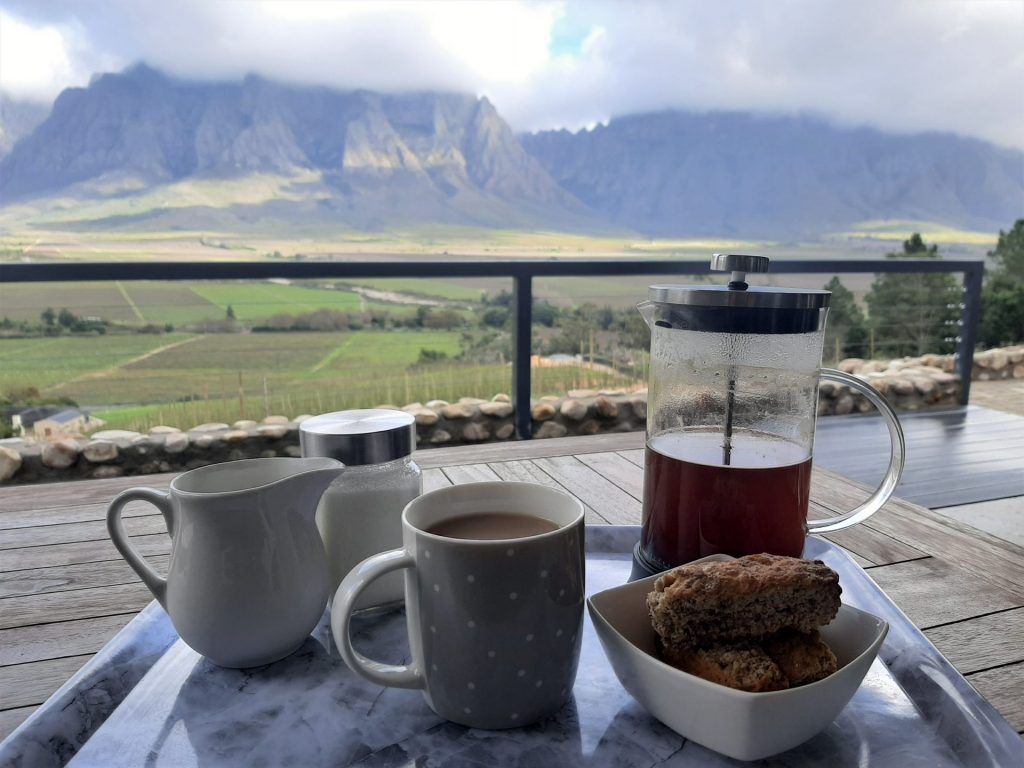 There is no need to worry about load shedding as the cottage is solar powered with a gas stove (no oven) and eco-friendly fridge. Preparing meals in the fully equipped kitchen is a pleasure, although I highly recommend enjoying a braai or two during your stay, the ideal entertainment area to light a fire, sip on sundowners and watch the sunset.
DISCONNECT TO RECONNECT
Staying at Slanghoek gives you the opportunity to really get away from it all, including a break from electronic devices. I relished the idea of being off-the-grid for a few days.
We took advantage of the sunny weather when we arrived and headed to play putt-putt. At just R15 per person, this is a great family activity. The 18-hole course meanders through trees and fynbos around a rocky outcrop with the most stunning views from the viewing deck.
Other onsite attractions and activities include jungle gyms for the kids, an outdoor swimming pool, fishing, horse riding, mountain biking (bring your own bikes), hiking, fishing, and a restaurant. The convenience store is very well stocked with food, firewood, ice and snacks, as well as a lovely store selling locally made gifts and décor.
Back at the cottage, we enjoyed a braai while Daniel braved the cold wind and had the hot tub all to himself. Without the distraction of mobile phones and TVs, we played board games and cards, curled on the couch while watching the storm, woke up late, ate delicious food and really connected as a family.
During a break in the raging storm the next day, the dark, heavy clouds cleared a bit from the towering peaks, revealing countless cascading waterfalls that completely mesmerised us. Seriously, who needs a TV with jaw-dropping views like that?
EXPLORING THE VALLEY AND SURROUNDS
There is much to explore and discover in and around the Slanghoek Valley. From hiking trails, horse riding, mountain biking, fishing, and game drives to enjoying a multitude of excellent wineries, restaurants, and picnic feasts, one is truly spoiled for choice in this spectacular region of the Western Cape.
As our stay coincided with Level 4 lockdown, all restaurants, wineries, and many attractions were closed. You know what this means, right? We'll be heading back to this beautiful valley as soon as we possibly can, and Slanghoek Mountain Resort will once again be our home away from home when we do! And in case you are wondering, Daniel survived his 48-hour "ordeal" without WiFi. 😉
SPECIAL OFFERS
Slanghoek Mountain Resort is a very popular accommodation choice in the valley, and with the addition of the luxury eco-cottages (they also offer safari tents, chalets and log cabins), it is advisable to book in advance.
Luxury Eco-Cottage Weekend Rates
· R2200.00 per night for 4 guests & R 2200 per night for 2 guests.
·        R 50 for children under the age of 3 per night
· Prices valid from 1 March 2021 to end February 2022 (Subject to change without notice)
Minimum stays applicable on weekends and long weekends
Luxury Eco-Cottage Weekday Rates
·        R1700.00 per night for the first 2 guests, R2000 per night for 4 guests.  
·        R 50 for children under the age of 3 per night
· Prices valid from 1 March 2021 to end February 2022 (Subject to change without notice)
CONTACT & BOOKING DETAILS
(+27) 23 344 3138
https://slanghoekresort.co.za/
Slanghoek Mountain Resort
Slanghoek Road
Rawsonville
6845
DISCLOSURE: We were hosted for a 2-night stay at Slanghoek Mountain Resort to review the new Luxury Eco Mountain Cottages. Transport to and from the lodge and any additional expenses were paid for by us. Thank you for extending the invitation, and to your friendly and welcoming staff for ensuring a memorable stay.
All views and images are my own unless stated otherwise. All Covid-19 safety and hygiene protocols were adhered to.
Yours in Travel
xoxo
Until the next adventure!